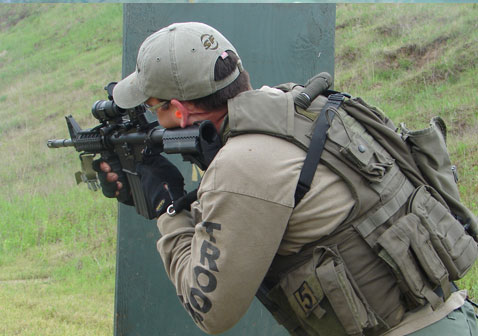 This course is designed to teach patrol officers and tactical team operators the fundamentals and dynamics of carbine / patrol rifle handling in a tactical environment.
Many shooting conflict situations occur in an urban environment and range between 3 – 75 yards.
Our goal is to equip the operator with various concepts and make them train and shoot under extreme situations.
Active shooter situations are becoming more apparent on a monthly basis within the United States and various departments are now switching from shotguns to patrol rifles to handle these traumatic attacks in our schools and business centers.
Students will be challenged with shooting around obstacles and in various shooting positions while been tested on their weapon manipulation, endurance and accuracy.
THIS IS NOT A BASIC CARBINE COURSE!!!!
Course outline with performance objectives:
Range safety rules and commands
Combat mindset / Team work
Battle sight zero from various distances
Pre-test
Rifle handling:
Proper equipment placement, stance, sight alignment, shooting placement, various shooting positions, various distances shooting, slings and bilateral shooting, various reloading options and cover drills, malfunction drills, weapon transitional drills, shooting on the move, shooting from behind cover, obstacle shooting including barricades, gas masks, shields, partners.
Basic low light shooting – night time shooting drills.
Team movements and formations
Officer down rescue – various scenarios
Cornering and entry shooting
Memory drills
Endurance challenge
Vehicle approach, ambush drills and utilizing cover
Post-test
Equipment Required:
Pen and legal pad to take notes
Eye and ear protection
Duty or tactical gear (magazine pouches to hold at least 2 spare AR and pistol mags)
Rifle sling – if you use one
Knee pads – recommended
Cap or hat
Patrol rifle / carbine (with weapon mounted light recommended)
Duty pistol
Spare rifle magazines – x3 minimum, more if you have them
Spare pistol magazines – x3 minimum
Spare batteries for red dot optic – if you have one on your rifle
1200 Rounds rifle ammunition
400 Round pistol ammunition
Hydration system – only if you have one  (otherwise water coolers will be available for students at all times)
Duration: 3 days Operators Course or 5 days Instructors Course
Tuition: $695 / $995
Tactical / Patrol Carbine
Average rating:
0 reviews