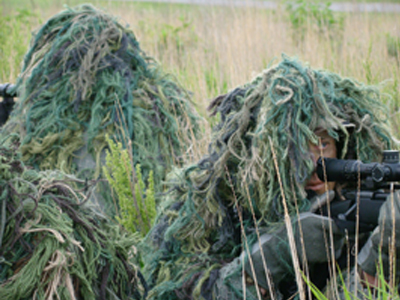 This 5 day course will focus on rural terrain operations, combined which the urban operation tactics taught in the Level 1 course.
Each marksman will be taught and tested on field craft skills, medium range shooting, urban assault sniper team tactics, observation and intelligence gathering. Snipers will also make urban assaults as entry team members and will work close with fellow team snipers during this exercise.
During this school, each student will be required to construct their own ghillie suit which will be used for field craft exercises during this class.
All construction materials and camouflage will be provided for this exercise except for the base uniform preferred by the sniper.
This course will be mentally and physically challenging and will require students to stay focused and motivated for 12 hour training days. Students will need to be able to run for ½ mile or 4 minutes at a comfortable pace without stopping and complete a minimum of 20 push-ups.
Shooting distances will vary between 50 – 300 yards in various weather conditions and tested with realistic type scenario situations.
A recognized entry level sniper course certificate is required before attending this course and will be at the discretion of our Director of training for approval.
Course Outline with performance objectives:
Basic safety rules
Fundamentals of field craft
Urban assault sniper team tactics exercises
Equipment Selection
Scope Adjustment – Mil dot practical exercise
K.I.M.S game (observation drill)
Construction of sniper hides
100 to 300 yard zero
Cold bore shooting
Range card
Range estimation
Ghillie suit construction
Field craft exercises – stalking and concealment
Mission deployments
Moving targets
Physical stress
Basic Camouflaging
Observing and intelligence gathering
Practical exercise
90% Qualification
Equipment Required:
An equipment checklist will be emailed to you upon request or after registering for one of
our courses.
Duration: 5 days Operators Course
Tuition: $795
L.E. Sniper/Observer – L2 (Rural Operations)
Average rating:
0 reviews