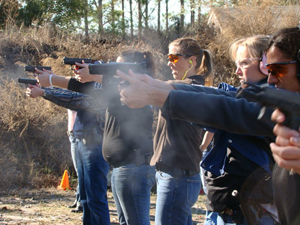 Bushido Tactical offers ladies only classes which are focused on firearm handling for self defense purposes.
This class is designed to help train ladies who would like to familiarize themselves with a handgun if the need ever calls for them to protect themselves at home or out in public.
We have a 2 part handgun course which is broken up into 1 full day for each level course. This allows for each student to
learn and progress at a steady pace without being overwhelmed with too much information during the class.
Handgun Level 1 Course Outline:    
Range safety rules and commands
Prevailing mindset
Pistol nomenclature
Proper equipment placement
Firearm Marksmanship Fundamentals
Handgun handling:                              

Various stances
Grip placement
Breathing
Trigger control
Sight alignment
Sight picture
Multiple threats
Various reloading options
Malfunction clearing drills
Duration: 1 Day
Tuition: $300
Handgun Level 2 Course Outline:
Effective bullet placement
Support side shooting – 2 hands
One handed shooting
One handed reloading – (Right / Left)
One handed malfunction clearing drills – (Right / Left)
Shooting from / through a handbag

Duration: 1 Day
Tuition: $300
Tickets are no longer available.